Eugene Templeton is the secondary antagonist of Boss Baby.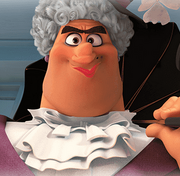 Eugene is Francis' big brother and right hand man. His job Is to ensure no one Interferes Francis' Diabolical plan to achieve market domination.
Background information
Edit
Feature films The Boss Baby
Character information
Edit
Full name
Edit
Eugene Templeton
Other names
Edit
Eugene
Personality
Edit
Tough, Dimwitted
Occupation
Edit
PuppyCo
Alignment
Edit
Bad (formerly)
Affiliations
Edit
Dreamworks villains
Help Francis put BabyCorp out of business
Relatives
Edit
Francis (brother)
Tim Templeton, Boss Baby (formerly), Staci, Jimbo, The Triplets
Dressing up
Babies
Takes Francis away after he turns back Into a baby, so he'll raise him right this time.