ViviAnn Yee is an award-winning American actress whose love for acting, singing and dance began at the age of four when her mom signed her up for a musical theater class in preschool. That same year ViviAnn eagerly went on to appear in a local musical theater production of "Seussical," followed by "Beauty and the Beast" and "Charlie and the Chocolate Factory." Her love for performing in all aspects solidified as she excitedly continued onto the professional realm of theater, television, commercials,voiceover and film. ViviAnn is a Los Angeles native who is fluent also in Mandarin Chinese. She is a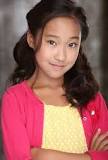 member of MENSA and in her spare time enjoys spending time with family and friends, reading lots of books, and training in kung fu and cinematic martial arts.
"Staci (voiced by ViviAnn Yee) is the Boss_Baby's tiny, tutu clad assistant. She may not be the best at notetaking, but she comes thru for Tim Templeton and Boss Baby.